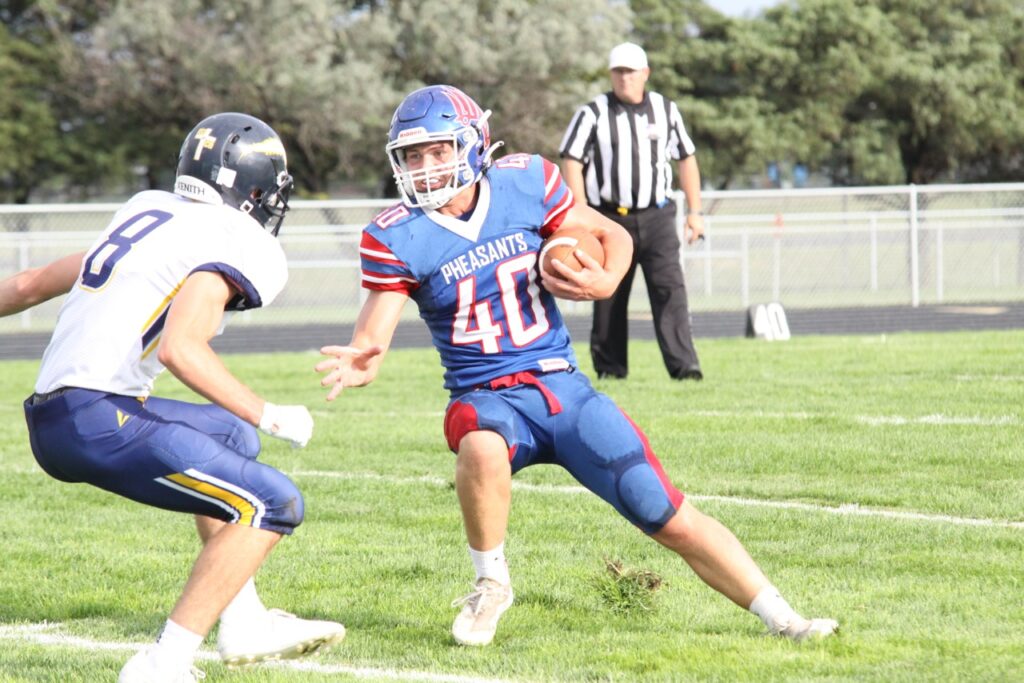 Shane Merrill | Sports Writer 
The Parker football team faced two strong opponents in the past two weeks, first facing powerhouse Bridgewater-Emery/Ethan as well as Beresford. Parker struggled to gain any traction on offense in either game falling in both contests and moving to 1-3 on the season.
In their game two weeks ago, the Pheasants faced off against the Seahawks falling to the hosts 44-6. B-E/E got on the board first in the game, scoring on a 44 yard run with 10:16 to go in the first quarter. The Parker defense tightened up from there allowing nothing more in the first quarter. The Seahawks then went to work in the second quarter, putting up 28 points. The Pheasants did respond with a score of their own, after a one handed grab from quarterback Bridges to Jaivyn Deboer set up a four yard touchdown run from Charlie Patten. That pushed the score to 21-6, but the Seahawks continued to roll, up 35-6 at the half and going on to get the win 44-6.
Leading Parker in the game was Bridges with 175 yards through the air, with DeBoer hauling in five catches for 87 yards while Patten had 69. Patten also led the defense with seven tackles while Davin Fuller had five and Levi Wieman four.
The Seahawks were able to outgain the Pheasants 432-187 in total offense.
"It was a tough game for us against a very good opponent. BEE has had a very solid program for many years and are continuing that tradition this year," commented coach Scott Hybertson. "Our guys played hard and we made some big plays. I think the guys learned a lot and are excited to take those lesson to the rest of the season."
In their second game the Pheasants hosted Beresford last Friday. The Watchdogs scored early in often in the game, going ahead 42-0 at the half and grabbing the win 42-9.
It was all Beresford early in the first two quarters, as the Pheasants couldn't get their offense rolling. The Watchdogs piled on 42 points by half, but Parker finally got something going in the third Zach Hofer made a tackle in the end zone for a safety, putting two points on the board for the Pheasants. Just minutes later Parker scored again, this time Ray Travnicek punched in a score from 11 yards out with new-found kicker Davin Fuller kicking through the extra point, making it 42-9. Things remained that way the rest of the way, with Beresford nabbing the win.
Leading Parker was Bridges with 75 yards through the air while Fuller had 74 yards on two catches. Jaivyn DeBoer also had 66 yards on the ground. Defensively, Patten had five tackels while DeBoer, Joe Mahan and Levi Wieman had four.
Beresford managed to outgain the Pheasants 324-194.