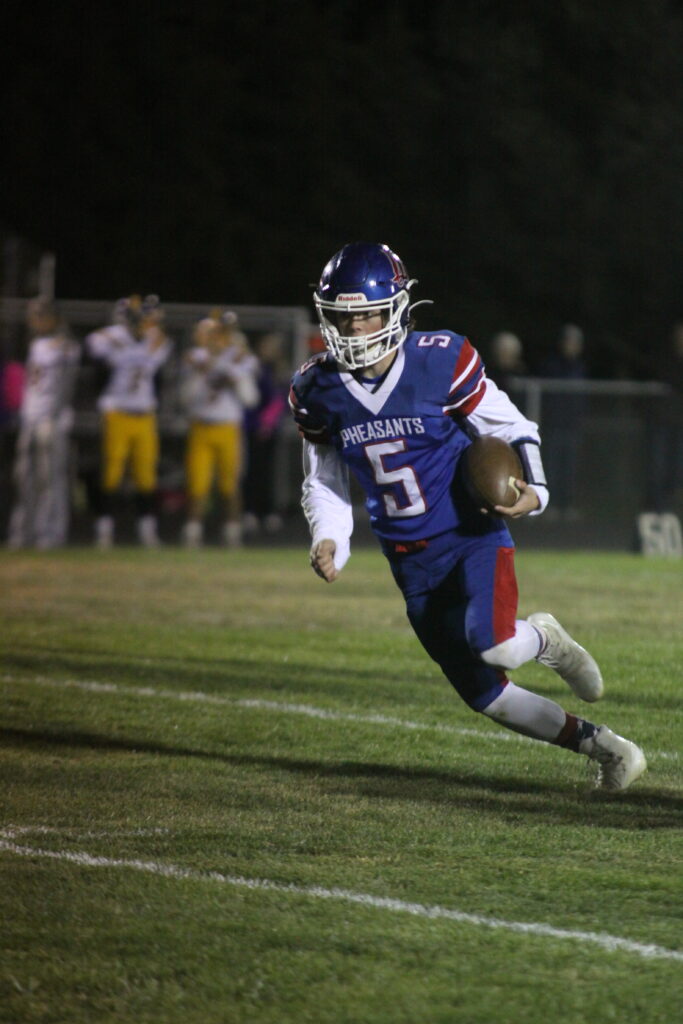 Shane Merrill | Sports
In their final regular season game of the season, the Parker football team faced off against neighboring Centerville, with a playoff spot still very much in play. Parker had won just two contests, and the Tornadoes had no wins, but the Pheasants dominated from start to finish, ending the game early with a 66-12 victory.
Both teams traded blows in the opening minute of the contest as Parker kicked off to Centerville, with the Tornadoes returning the kick for a touchdown, giving the visitors a 6-0 lead. On the ensuing play for the Pheasants, Colby Olson broke loose, going 81 yards to the house for a Pheasant touchdown, knotting things at 6-6 with less than a minute ran off the clock. Both teams settled in from there, as Parker scored four more times in the first with Lane Wieman rushing for two touchdowns, and Olson intercepting a pass for a pick six and also scoring from 35 yards out pushing the Parker lead to 30-12 as time expired on the first.
Olson continued to have an impressive night for the Pheasants as the senior scored twice more in the second, first from 70 yards out and later from 21 yards out pushing the lead to 44-12 at the half.
Lane Wieman scored right out of the half break on a 46 yard run with Jaivyn DeBoer taking in the extra points pushing the lead to 52-12. DeBoer also scored on a 56-yard scamper down field, pushing the lead to 60-12 late in the quarter with the Pheasants closing things out in the opening minutes of the fourth quarter, as Wieman scored yet again from six yards out with Parker going on to end the game early 66-12.
Leading the plethora of offense was Wieman with 231 yards rushing and four touchdowns while Olson had 219 yards rushing and four touchdowns.
Deboer also had 60 yards rushing and one score.
Defensively, Olson led with seven tackles and one interception while Charlie Patten had seven and Levi Wieman six. Jack Even also had six on the night.
Parker dominated the offensive game with 529 yards of total offense to 164 for Centerville.
"It was a great game on Friday night. We have some things we need to clean up for Thursday against Viborg-Hurley. It will be another opportunity for us to go out and show how much we have improved throughout this season," remarked coach Scott Hybertson.
Parker will now travel to Viborg to face reigning 9AA champion Viborg-Hurley in the first round of playoffs.