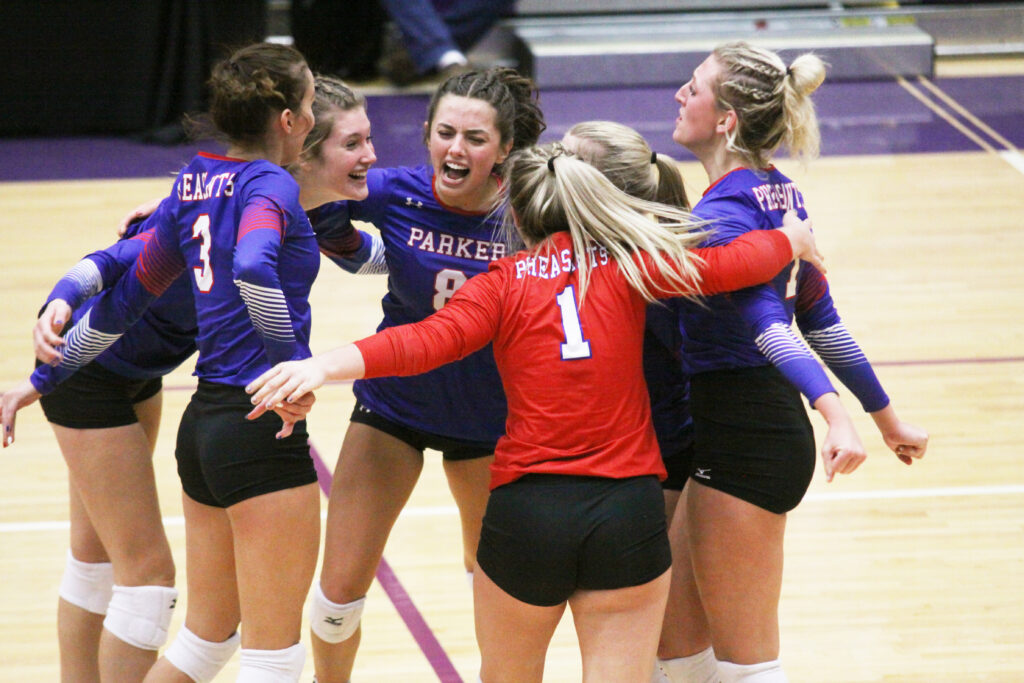 Shane Merrill | Writer
In what turned out to be an emotional match, the Parker Pheasants were able to sweep the Hamlin Chargers in the third place match at the state 'A' tournament. The win ended nine senior careers, all of which have left significant impact on the Parker program.
The Pheasants had one goal on their mind, to go out with a victory. Parker did just that and got the fun started in the first set, quickly breaking out to a lead and never looking back, taking the victory 25-16.
The kills continued to fall for Parker in the second set, as seniors Shelby Lang and Ryleigh Andersen pounded shot after shot to the floor while setter Cierra Mohr found success with several dump shots that resulted in points with Parker taking the win 25-17, needing just one more for the sweep.
The third set was much closer as the Chargers jumped ahead early. The Pheasants clawed their way back and knotted the match at 22, going on to get the win 25-23, sweeping the Chargers and setting up an emotional farewell for nine seniors.
Leading Parker for the final time was Lang with 11 kills and 16 digs while Andersen had eight kills. Breana Jensen also led the defense with 16 digs while Grace DeWald had 11 and Cierra Mohr 10. Mohr also dished out 28 assists while junior Brooke Berens posted eight kills.
Lang and Jensen were also chosen to the all tournament team, giving the Pheasants two spots on the team.
"I want to thank everyone who made the trip to Watertown and supported us all season," said head coach Carly Rozell at the team celebration in Watertown on Saturday night. "These nine seniors have accepted and excelled at their roles and will be missed. They have done so much for our program."
Numerous other players, parents and fans also spoke of the senior's history that includes playing together since fifth grade.
Parker will need to reload next season, losing nine seniors and five starters.