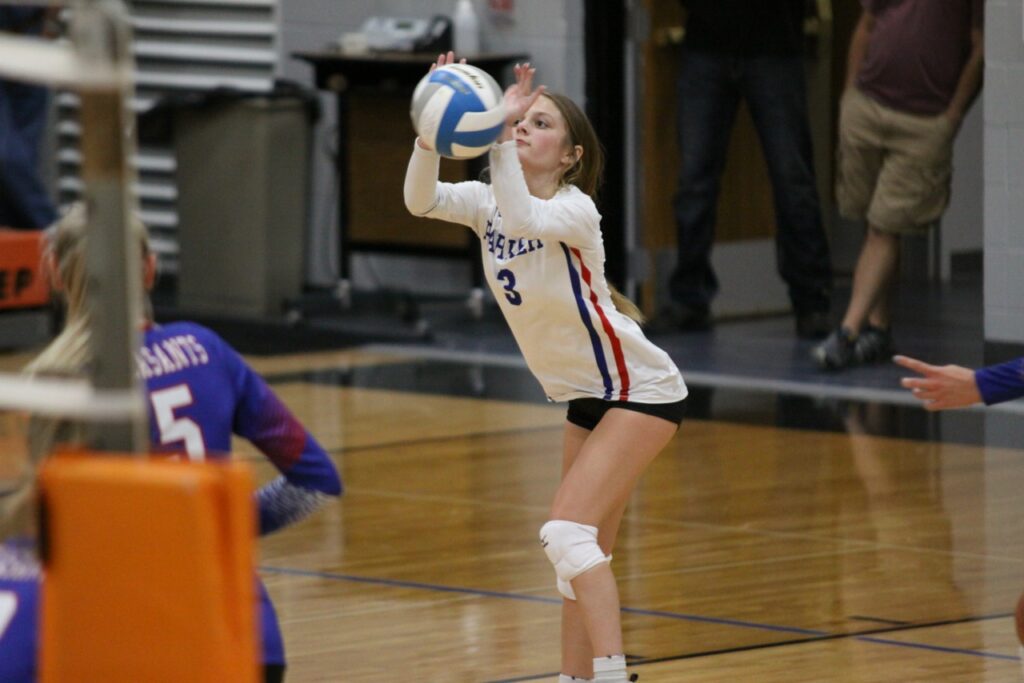 Shane Merrill | Sports Writer
The Parker volleyball team got off to their usual start last Tuesday night, traveling to Irene to face the I-W Eagles. Parker wasted little time on the hosts rallying to a 3-0 victory.
The Pheasants controlled the first set getting off to a fast start. Solid serving as well as kills from Brooke Berens and Katie Bialas helped the cause as Parker raced to a 25-14.
The second set was all Parker as the Pheasants once again got out a big lead, up 20-7. Blocks from Bialas helped keep momentum squarely on the shoulders of the Pheasants as Parker nabbed the win 25-11.
The third and final frame was a bit closer but Parker was in no danger, going on to take the win 25-16 and the match 3-0.
Leading Parker was Bialas with eight kills and Berens with seven. Halle Berens also had five. Berens also had five blocks and Bialas four. Lexi Even also dished out 14 assists and had six digs while Desiree Pierce had 12 digs and Berens 11.
"Tuesday was a good game," commented coach Carly Ball. "We worked together as a team and played well."
Up next Parker traveled to Mt. Vernon.
Titans power past Parker
Fresh off a win over I-W, the Parker volleyball team traveled to Mount Vernon last Thursday night in a battle of two teams that were each 1-0. MVP was able to capitalize off several Parker errors en route to a 3-1 victory.
The host Titans pounced on the Pheasants early in the first set, rallying ahead 7-1. Parker had to regroup pulling within two late, but could never overcome the deficit falling 25-20. MVP also took a quick lead in the second set, but Parker rebounded, pulling ahead 12-9. It was all Titans from there however as MVP won the set 25-18, leading the match 2-0. Parker finally rebounded in the third game, jumping ahead early and never looking back, taking the win 25-20 behind big kills from Katie Bialas and Brooke Berens. The Pheasants needed to win the fourth set, and looked like they might, rallying ahead 7-0 and forcing a MVP timeout. Unfortunately the scoring rally stalled from there as MVP pulled even at 12-12 and held a slight lead to the end winning 25-20 and the match 3-1.
Berens led the match with 13 kills while Bialas had 12. Berens and Janae Olson each had four kills also. Lexi Even also posted a double-double on the night with 18 assists and 17 digs while Terryn Fuller had 11 assists. Josie Leberman also had 25 digs while Berens had 24 and Desiree Pierce 19.
"Thursday was tougher but still a good game," remarked coach Carly Ball. "I was very proud of the team for not giving up. It would have been easy to just quit after the second set. We have lots to work and will continue to work hard and get better."
Up next Parker opened conference play with longtime foe Sioux Valley.