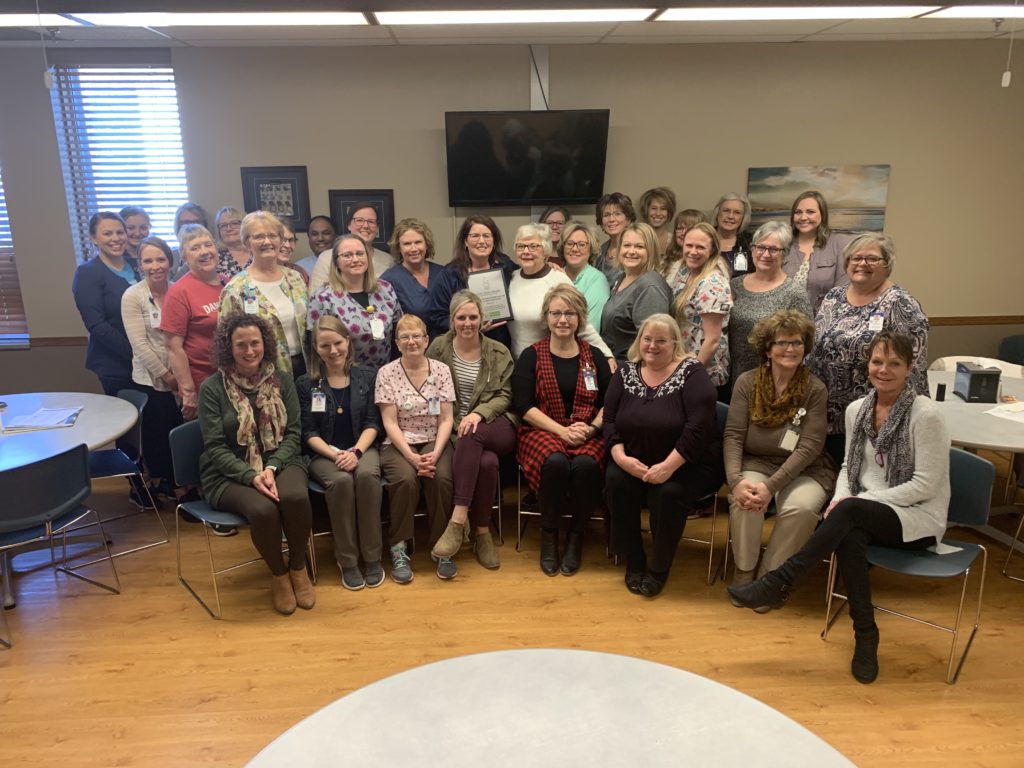 Viborg – Pioneer Memorial Hospital & Health Services was presented with a very special award this month. They were the first-ever recipients of The DAISY Team Award, recognizing the extraordinary teams and nurses that go above and beyond! This award was presented from the Sanford Network from a nomination they received in deep appreciation of all that Pioneer Memorial does, who they are and the incredibly meaningful difference their teamwork makes in the lives of so many people.
They were nominated to receive this award from Troy and Jen Knudson and LeAnn Knudson.
"The care that LeAnn received while at Pioneer Memorial Hospital was absolutely top-notch. Everyone was very accommodating to her and us as a family. Her well-being and care for her in the best way possible was always in the minds of everyone," said the couple.
They continued, "We never thought twice about leaving her alone as we knew she was getting outstanding care. They all treated us like they knew us and always answered questions and greeted us with a smile. They kept us very updated on all the cares they were receiving. We feel you have a tremendous staff that you should be very proud of!"
"The nurses were all very well trained as to how to handle my care with my injuries and what I could and could not do. The entire staff including nurses, social services, physical therapy, occupational therapy, dietary, maintenance, housekeeping; helped me in so many ways to prepare for me to go home. I felt as though everyone was concerned with my well being and went out of their way to make sure my questions were answered and they all knew what I needed when I got home," noted LeAnn.
Members of the family of Patrick Barnes established the DAISY Foundation in 1999. He was 33- years-old and died of complications of the autoimmune disease ITP. Shortly after Barnes death, the family wanted to do something positive to honor him and they came up with DAISY – an acronym for Diseases Attacking the Immune System. As they brainstormed what The DAISY Foundation would do, they kept coming back to the one positive thing they held on to during Barnes illness: the extraordinary care he and they received from Barnes nurses. To say thank you to the nurses, they created the DAISY Award for Extraordinary Nurses. What started as a thank you from their family to nurses, has grown into a meaningful recognition program embraced by healthcare organizations around the world. As the foundation continued to grow, they recognized that while an idea to achieve better patient and family outcomes may start with one individual, it often takes an entire team to implement successfully. In conjunction with the other hospital partners, Barnes family then created the DAISY Team Award to honor collaboration by two or more people, led by a nurse, who identify and meet patient and/or patient family needs by going above and beyond. Pioneer Memorial Hospital & Health Services was the first ever recipient of this special Team Award for 2019.
– Submitted by Pioneer Memorial Hospital