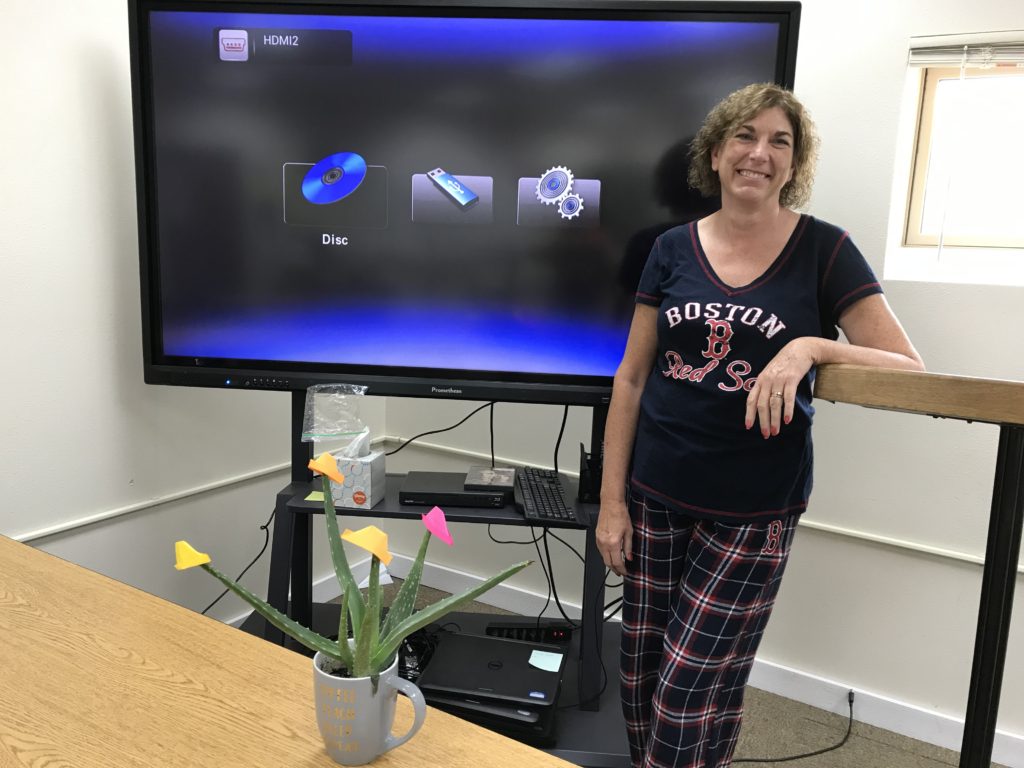 Sarah Ebeling | Editor
First year computer and business teacher Kay Plucker said the last few months have been a whirlwind for her, but they have been great.
Plucker, who has been a substitute teacher for years, is one of Parker's newest teachers this year. After subbing on a regular basis last year, Plucker put her teaching degree to work and accepted a job as a full-time teacher in Parker this year.
Plucker explained that she graduated from Sioux Falls College with a degree in Secondary English Education and when her college loans came due, she got a full-time job, but not as a teacher. Plucker worked customer service for an insurance broker in Sioux Falls for a couple of years before launching her career as the assistant ag editor at Lawrence and Schiller. She noted she did that for three years before moving to Bowden Productions where she started as a copy-writer and worked her way up to director of marketing over the course of several years.
Then, when Mace, her and husband Joseph's youngest son was born, she stayed home with her family for the next 18 years.
About seven years ago, Plucker began subbing again, last year, almost full-time and when a position in Parker opened up, Plucker applied and was offered it. And so, this past summer, Plucker took six graduate credits to get her teaching license renewed and then went to three trainings on the courses she would be teaching.
She hit the ground running in August, teaching seventh through 12 grade computers and high school business classes which consist of personal finance and accounting.
"I am most excited about learning everything new and learning along with the kids," said Plucker, laughing that she is also nervous about it too.
"And staying one or two steps ahead of them," she laughed.
After years away from teaching full time and now being back, Plucker said she finds it very helpful to have the other business and farm experiences because she tries to give real life connections in her business class for content.
She noted that she really likes teaching these classes and that she is still able to incorporate so much writing into her classes, because, as she said, "Nothing tells another person how much you know about a subject as writing about it does."
Plucker said she never thought she would come back around to teaching, so no one was more surprised than she was.
And, she explained, she landed in the very same classroom that years ago she did her paraprofessional with former teacher Clarke Hoover.
Plucker said she not only cares about the kids she teaches, academically, but she works hard to develop the kids as a whole because that is just how she is as a mom. She lives east of Parker with husband Joseph and is a mom to three sons, Pierce and Grant who attend SDSU and Mace, who is a senior in Parker. Plucker said that when she started thinking about going back to school, having spent the past 18 years working beside her husband, it was Joseph who was so supportive and encouraging.
"I wouldn't have been able to do this without him," she said.