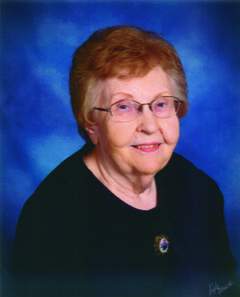 90
Tuesday, June 29
Freeman
Rita Ann (Graber) Graber was born Feb. 14, 1931, east Freeman to Carl J. and Lena (Preheim) Graber, joining two older brothers, Cleon and O'Ray. Together they shared fond memories of growing up on the farm and attending grade school at North Star District 66.
On May 26, 1946, Rita was baptized by Rev. J.J. Regier at Salem-Zion Mennonite Church, where she remained a faithful member all her life.
As a child, Rita spent time in Sioux Valley Hospital for a tonsillectomy and decided she wanted to be a nurse. After graduating from Freeman Academy in 1949, she attended Freeman Jr. College one year and then left for Newton, Kan., to begin nurses training at Bethel Deaconess School of Nursing. In 1953, she started working at the Freeman Community Hospital and continued part-time or full-time for 44 years.
Rita and Palmer Graber were married on June 29, 1956, and farmed while raising their three children. She served on various committees at church, the hospital and Freeman Jr. College and Academy.
A few years after Palmer passed away in 1981, Rita moved into Freeman and, after retiring from nursing, enjoyed attending various activities and traveling. Her lifelong hobbies included sewing, reading, gardening and hosting friends and family members in her home. She especially loved spending time with her grandchildren, many dear cousins, former schoolmates and hospital co-workers. Rita moved into the Salem Home in September 2018.
Cherishing her memory are daughter, Debra (Steve) Schmeichel, Hurley; son William (Lisa) Graber, Erie, Colo.; son Stewart (Krista) Graber, Sioux Falls; grandchildren, Paula (Tom) VerDouw, Susan(Ben) Harder, Ethan (Jessica) Schmeichel, Skyler Graber, Lee Graber, Kameron Graber and Cole Graber; five great-grandchildren, nieces, nephews, cousins and friends.
She was preceded in death by husband Palmer, parents Carl (1986) and Lena (1988), parents-in-law Julius (1966) and Caroline (1976), brothers Cleon (2014) and O'Ray (2016), their wives Marjorie (2010) and Edith (2018); Palmer's siblings and their spouses; Elmer (Clara C.), Felix (Bernice), Clara J. (Beryl) Winters, Margaret (James) Preheim, Leta (Gordon) Remlinger and Delores (Delbert) Kaufman.
A funeral service was held Saturday, June 17, at Salem-Zion Mennonite Church of Freeman.
Arrangements provided by Walter Funeral Home in Freeman.