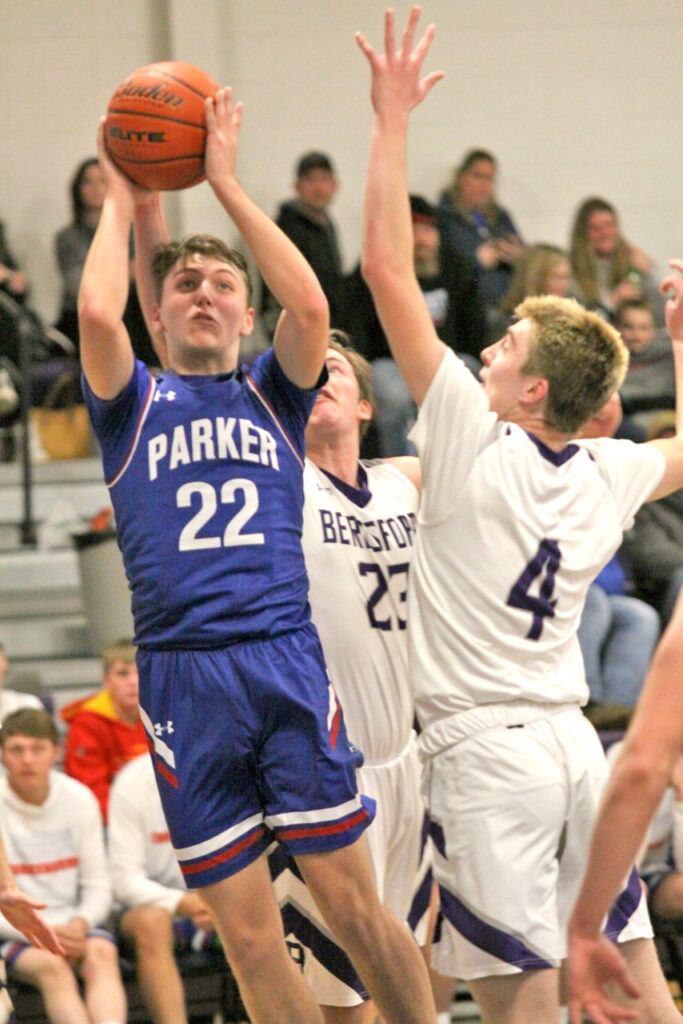 Shane Merrill | Sports
In another tough matchup last week, the Parker boys traveled to Beresford for a New Years matchup against the Watchdogs. Parker fell behind early and had to rally, only to see the come back fall just short as the host team pulled out the win 66-58.
Parker grabbed their only lead of the game off the tip when Jaivyn DeBoer opened with a layup to push Parker ahead. Beresford then caught fire, hitting four three pointers in the first four minutes and putting together a 25 point first quarter, leading 25-14 after one.
Carter Robertson opened the second frame knocking down five straight points to pull the Pheasants back within six, and continued to stay hot keeping Parker within striking distance the entire quarter. Robertson finished the second with back to back buckets, keeping Parker within six points, 36-30 at the half.
Beresford once again made a run in the opening minutes of the third, rallying ahead by 13 points. Another Robertson three, along with a buzzer beating jumper saw Parker grab life, down eight entering the final quarter.
Davin Fuller kept the offense hot for Parker, pulling within six just seconds into the fourth quarter. Robertson also scored again, pulling up over two defenders and draining nothing but net, getting Parker within four. The back and fourth game continued into the final minutes, as the Pheasants got within two with two minutes to play but could get no closer, as the Watchdogs closed out the game with a long three and made free throws, going on to take the win 66-58.
"I thought we played well overall throughout the game, both offensively and defensively. We were able to cut a 13-point deficit down to two points, but Beresford hit a three to lead by five. Then we were forced to play the foul game. We are proving that we can play with any team, but still need to play a complete game. If we can play a complete game, then we give ourselves a better chance," said coach Austen Hurley. "Overall, I have been pleased with the play of our guys."
Leading Parker in the game was Robertson who posted an impressive 33 points hitting at 55 percent. Fuller also had 10 points and grabbed a career high 18 rebounds. The Pheasants also finished 5 for 5 from the free throw line, however the Watchdogs got to the line for 16 tries, making 7.
The loss dropped Parker to 1-4 on the season, with the Pheasants having been within striking distance in all four of their losses. Up next Parker will face BonHomme before facing off in the conference tournament.