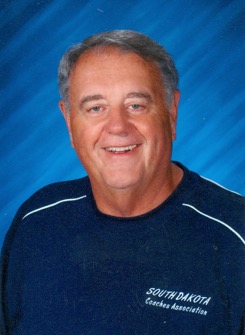 73
Thursday, July 22
Sioux Falls.
Rodney Allen Garrison was born on Nov. 2, 1947, at Urbana, Mo., to Bert and Edna (Sneller) Garrison. In Rock Rapids, Iowa, he grew up where he attended school and graduated from Southern State Teachers College in Springfield with football and track scholarships. He taught and coached at three different schools before accepting the line coach position at O'Gorman High School, which he held for 22 years. In addition to that, he took the head girl's golf coaching duties for 31 years and amassed 12 state team titles. Later he added duties as coach of the boy's golf team and in 12 years led them to five state team titles.
In 2015 Rod retired and accepted a position at Great Life Golf and Fitness as the director of corporate partners.
During his teaching and coaching career, Rod received many awards. In 2007 he was selected as National High School Athletic Association Golf Coach of the Year and seven years later, Rod was enshrined in the National High School Coaches Athletic Association Hall of Fame. In 2017 Rod was inducted into the SD Football Coaches Hall of Fame. He developed lifelong friendships and mutual admiration with the football players he coached, having taught them life lessons beyond the football field. Rod recently was honored to receive the SD Golf Hall of Fame Award, passing away before his ceremony, but he is now in a place where his rewards will be greater than anything here on earth. In true Grizz fashion, he fought till the end just as he taught his athletes to do.
One of his most proud achievements was the establishment of the Sioux Empire Junior Challenge in 2002. It was for boys and girls ages seven-18 and was held weekly in different golf courses in eastern SD. He ran this program for 14 years and was able to award a scholarship to not necessarily the best player, but the one that showed respect, integrity, sportsmanship and team building.
Rod was past president of the SD Coaches Association and served as a deacon and elder at the Chancellor Reformed Church.
Grateful for having shared his life are his wife Gayle; his children, Lori, Jon and Jackie (Don) Wages; stepsons, Jamie Boomgarden and Chad (Mike) Boomgarden; eight grandchildren and three great-grandchildren; a sister Roberta (Art) Flier; and brothers Pat (Sharon) Garrison and Earl (Shari) Garrison.
Memorials may be directed to the Chancellor Reformed Church or SD Junior Golf Association Scholarship Fund.
Funeral services were held Saturday, July 31, at the Chancellor Reformed Church, with private family burial at the Salem Cemetery, rural Irene.
Arrangements provided by Hofmeister Jones Funeral Home.