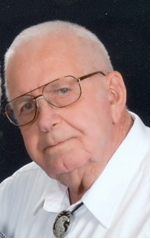 86
March 29, 2020
Parker
Ronald Jerome Leber was born on Feb. 20, 1934, at Parker to Vincent and Cecil (Verley) Leber. He grew up near Parker and graduated from Parker High School in 1952. O
n Sept. 1, 1962, he was united in marriage to Patricia Wingert at St. Ann's Catholic Church in Humboldt. They farmed and had a family dairy operation on the Leber Century Farm. He and Pat continued to live in the house where he was born. After the sons were involved in farming, they enjoyed 22 years of being winter Texans at Magnolia Park of Donna, Texas.
Ron was active in his community, a lifelong member of St. Christina Catholic Church, a longtime president and sexton of St. Christina Cemetery and a board member of Parker School Board, Farmers Union Cooperative Association and Parker Township.
Grateful for having shared his life are his wife Patricia; four sons, Kevin, Parker, Lyle (Marya), Tea, Brian (Melissa), Parker and Richard (Dawn), Parker; five daughters, Regina (Todd) McKenney, Parker, Karmen (Dan) Schneider, Java, Karla (Jason) Thorson, Hardwick, Minn., Jolene (Bob) Lingen, Parker and Maria (Thomas) LaPorta, Shawnee, Kan.; a sister Deanna Whitefeather Clark, Sturgis; 23 grandchildren and 16 great-grandchildren. He was preceded in death by his parents, an infant son Russell, a brother Jerome and a sister Venice.
A memorial mass will be held Saturday, Aug. 21, at 10:30 a.m. at Christina Catholic Church in Parker. Memorials may be directed to St. Christina's Cemetery Fund.
Arrangements provided by Hofmeister Jones Funeral Home.