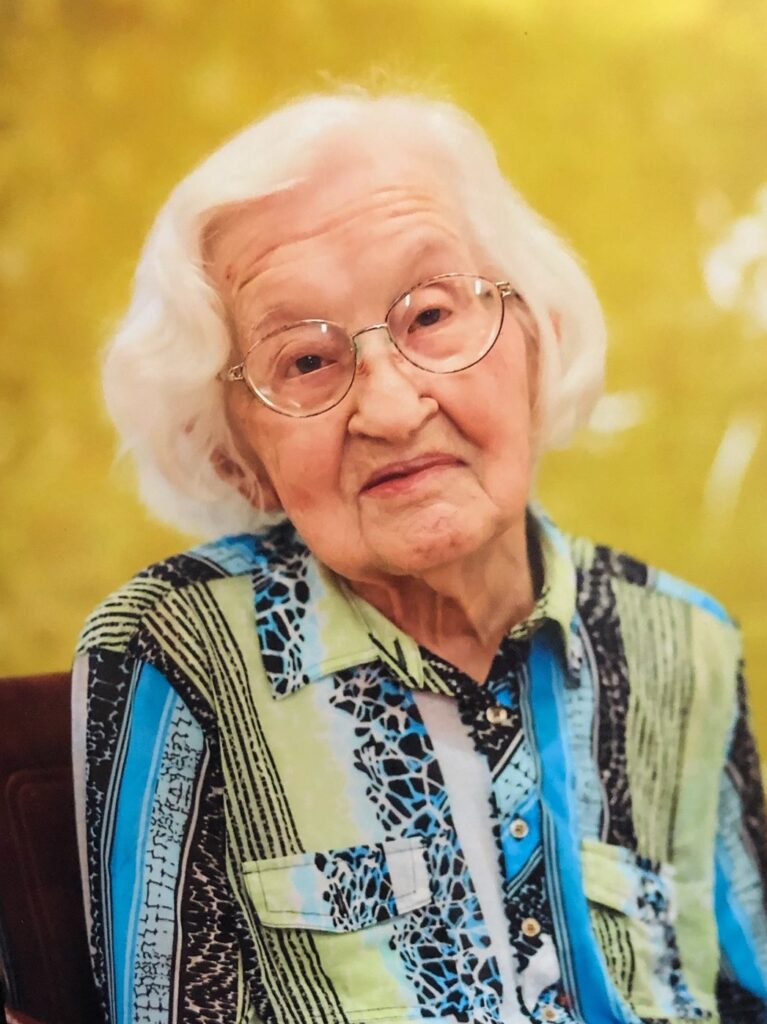 104
Wednesday, Sept. 9
Freeman
Ruth Esther Schamber was born on Jan. 30, 1916, in Mission Hill to Richard and Caroline (Haar) Schamber. At the time, her family was living on the prairie near Yankton and Mission Hill, where Richard served as a circuit pastor. Ruth was baptized in infancy. She was confirmed March 18, 1930, at St. Paul Lutheran Church in Freeman. She received her elementary education at St. Paul Lutheran Grade School and graduated from Freeman High School on May 24, 1934.
After graduation, Ruth moved to Edina, Minn., and worked in a hotel and served as an organist and pianist in a Lutheran Church. She returned to Freeman and worked at the Freeman Café, where she met "Jones," her future husband.
On Aug. 10, 1937, Ruth was united in marriage to Eldon "Jones" Preheim. They were blessed with four children, Esther Ruth, D'Wayne Alan, Marie Carol and Judith Anne. After Ruth and Eldon Preheim were married, she became a member of Salem Mennonite Church in 1942.
She will be remembered for her deep abiding faith in her Heavenly Father, daily praying and being known by her family as a "Prayer Warrior." She is also remembered for her love of family, her enjoyment of sewing for her family and the many quilts she made and the many baked goods she always gave to her family. Ruth had a love of music and also of playing games with all family and friends. Her grandchildren and great-grandchildren will never forget the fun around the kitchen table. She will be remembered with love. Ruth's one wish was to have everyone she loved to know their Heavenly Father and live a faith-filled life.
Left to cherish her memory are her son, D'Wayne (Gloria) Preheim, and three daughters, Esther Junker, Marie Kaufman and Judith (Quentin) Kaufman; grandchildren and their families: Michael Kaufman; Jeffrey (Robyn) Kaufman; Vincent (Nancy) Preheim, Benjamin and Eli; Carl (Jennifer) Preheim, Ryan and Kayla; Audra Preheim; Jessica Preheim, Abigail, Grace and Maddy; Michelle (Mike) Theisen, Joscelyn and Gavin; Melissa (Peter) Louwagie, Caitlin (Andrew) Swedzinski, Zackery, Benjamin and Cassandra; Sheri (Aaron) Levisay, Anthony, Andrew, Nicholas and Amanda; Marti Kaufman, Sarah and Carley JoAnn; and three sisters-in-law, Marguerite Preheim, June Schamber and Freda Schamber; and many Schamber and Preheim nieces and nephews.
Preceding her in death were her husband; sons-in-law Duane Kaufman and Kenneth Junker; one grandchild, JoAnn Kaufman; her parents, Richard and Caroline Schamber; brothers Arthur, Eric, Gerhard, Edwin and Herman; and sisters Dorothea Albrecht, Melitta Smidt, Helen Schamber, Anita Davis, Bertha Steinhauer and Amanda Schamber.
In lieu of flowers, please make your memorials to Pastor Harold Salem of the Christian Worship Hour, Box 2002, Aberdeen, SD 57402, or the Salem Mennonite Home or Oakview Terrace in Freeman.
Funeral services were held Saturday, Sept. 12 at Walter Funeral Home with burial at Salem Mennonite Church, Freeman.
Arrangements provided by Waltner Funeral Home, Freeman.