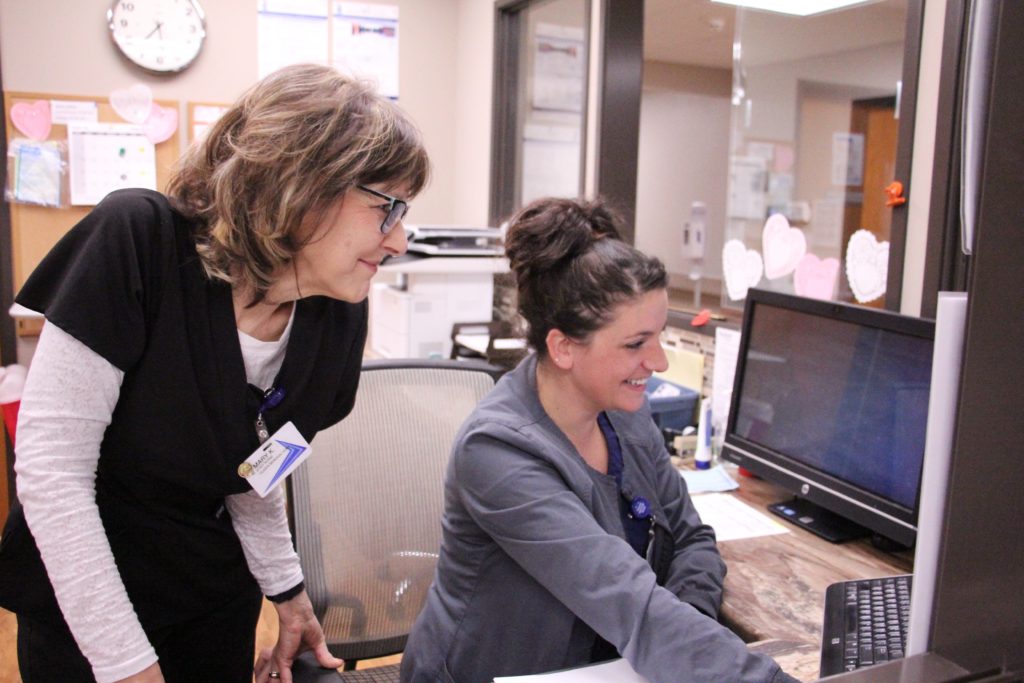 Sarah Ebeling | Managing Editor
Some people have a calling in life. Some are called to teach, work with their hands, become doctors or lawyers. Others are called to help. To give back and to touch lives. Mary Kunz is one of those people — the givers.
Kunz, who has worked in the medical field for decades is retiring later this week from Tieszen Memorial Home.
In 1990, Kunz went back to school to get her degree as a registered nurse. She explained that she worked in different clinics and even in a hospital before settling in at Tieszen's in 2000 as the overnight nurse. She stayed in that position for six years before going to days.
She noted that when she worked nights, she would be there in the morning when her kids got on the bus and then she'd sleep for awhile before getting up and taking care of things around the house.
"I never complained about my schedule. And Greg was such a big help," she said about her husband of 40 years.
Kunz continued, "I really have liked long term care. I like getting to know the people and their families. I really liked getting to know the community and I have made so many lasting friendships."
Although none of Kunz's kids pursued a career in the medical field, all three of them, Katelynn, Shannon and Kevin, all worked at Tieszen's.
"They developed a good work ethic and leadership qualities because they knew people depended on them," she said.
Kunz noted that the biggest thing about kids who work at the nursing home is that they learn a tremendous amount of respect for the elderly and they develop a lot of patience.
"And I think they have fun too. I am proud of them," Kunz said of the teens who apply and work at the Marion facility.
Through her years in Marion, Kunz said she has seen a lot of changes, including the addition of assisted living and memory care.
"I think people get better care because they have added more levels of care," she said. "And Tieszen's is a well kept, up-to-date facility."
She noted that when she leaves later this week, she will miss the lasting friendships, residents and co-workers the most.
Laura Wilson, Tieszen Memorial Home administrator said, "Mary has been a valuable nurse at the Tieszen Memorial Home throughout her years here. She has held a variety of roles from a Charge Nurse to her current position of Infection Control Preventist/Skin Care Nurse and helps out with staff education. She has established and maintained an exceptional Infection Control program and was a perfect fit for those responsibilities. We want to wish her all the very best in her retirement!"
When Kunz leaves her job on Thursday, she said as scary as endings are, she is looking forward to a new beginning.
"I will spend time with family, friends, grandkids and my husband," she said with a smile.