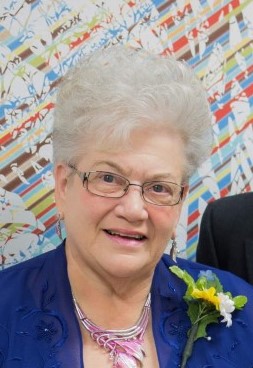 74
Friday, May 14
Bridgewater
Sharon Opperman was born in Huron to Alvin and Bessie (Burma) Opperman on Sept. 18, 1946. She was united in marriage to LeRoy Wollman on Oct. 9, 1963. They lived in Bridgewater until 1966, in Freeman until 1978, then to a farm southeast of Bridgewater until 2002 when they moved to their present farm south of Bridgewater.
Sharon worked several jobs- the nursing homes in Freeman and Bridgewater, Syncom & Toshiba in Mitchell, the Ortman Hotel in Canistota and the Freeman Country Inn in Freeman, most of them at night so she could still be at home during the day with her boys. She was baptized and was a member of the Neu Hutterthal Church. She loved LeRoy dearly and her greatest joys were her sons, granddaughters and especially the great-grandbabies. Her face would light up whenever she spoke of her family.
She and LeRoy had four sons. Brian, Watertown; Blaine, Watertown; Brad (friend Pam Weber) Emery and Barry (Deb), Alexandria. She had three granddaughters Joni (Brett) Jager, Sioux Falls; Cassi (Ryan) Lenger, Fulton and Lindsi (Jasen) VanWoert, Sioux Falls, as well as four (with a fifth on the way) great-grandchildren Norah and Nolan Jager, Blair and Bennett Lenger and baby VanWoert.
She is survived by her husband, her boys, her grandchildren and great-grandchildren, her sister Karen (Allen) Gross, and several nieces and nephews.
She was preceded in death by her parents, both her mother and fathers-in-law, as well as a nephew.
Funeral services were held Wednesday, May 19, at Neu Hutterthal Mennonite Church of rural Bridgewater.
Arrangements provided by Walter Funeral Home in Freeman.