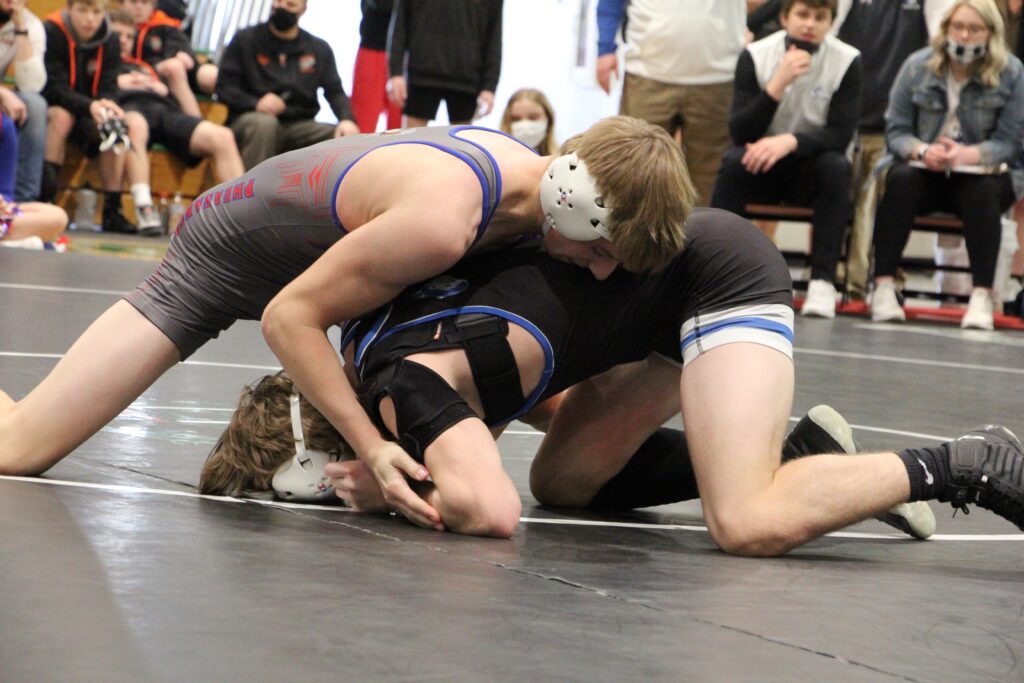 Shane Merrill | Sports Writer
The Parker wrestling team took part in the region tournament last week and will send six wrestlers to the State B tournament in Rapid City. Riley Pankratz, Andrew Even, Charlie Patten, Levi Wieman, Geoff Dunkelberger and Hailey Phillips all qualified last weekend.
Pankratz (113) took third on the day, first topping Dylan Christienson of Flandreau by pin and coming back after a tough loss in the semi finals knocking out Hayes Johnson of Elk Point-Jefferson and Trent Feldhaus of Howard by fall to claim third.
"Riley Pankratz had a great day. We knew he had a chance but had to wrestle hard to make it and he got the job done," said head coach John Silvernail.
Even (126) took fourth on the day, winning his first match by fall over Joseph Weis of EPJ. A loss then sent him to the consolation semifinals where he topped Karsten Hamilton of Howard 14-3, advancing to the third place match against Weis, however the roles were reversed with Weis winning by fall, sending Even on to state in fourth place.
"Andrew Even is tough as nails. He battled back after a tough loss in the semifinals. I am proud of his effort and his heart," Silvernail said.
Patten wrestled a perfect day, claiming region champion at 195. He won by fall in his first two matches over Hunter Sharkey of EPJ and in the semi finals beat Alex Andresen of Tri Valley by fall.
Silvernail continued, "Charlie Patten is a workhorse. He went out and pinned his first two opponents. Charlie finished on top of the podium with a dominating win over a MCM wrestler."
Wieman was fourth at 220, winning his first match over Jaden Richter of Garretson 9-1 before falling to Ethan Nehlich of Tri Valley. Wieman then toppled Chase Reed of Flandreau by fall but lost to Clayton Smith of Marion/Freeman by fall, taking third.
"Levi Wieman is continuing to get better. He took one of the better 220's right to the end in the semifinals and stuck another top kid in the blood round to make his first state tournament," stated Silvernail.
Dunkelberger also took fourth on the day, as the senior qualified for his first state tournament. Dunkelberger won a close match 2-1 to open the day against Gabe Johnson of Garretson, however Collin Graves of Viborg-Hurley won the semifinal match by fall, sending Dunkelberger to the consolation semifinals where he won another squeaker 3-2 against Elliot Chase of MCM. In the third place match Drake Peed was able to win by fall, sending Dunkelberger to the state tournament with a fourth place finish.
He noted, "Geoff Dunkelberger finally broke through to make the state tournament as a senior. Geoff had a little disappointment in the semifinals but came back in the blood round to take down another MCM wrestler."
Hailey Phillips will also head to the girls state 'B' tournament as the first girl to accomplish that feat for the Pheasants.
"We are excited to have our first female qualifier in school history, Hailey Phillips. Hailey is a shy 8th grader, but she comes to practice and works very hard. We can't wait to watch her growth as a wrestler," said Silvernail.
He concluded, "Zanto Centeno finished his senior year as a Parker wrestler at the region tournament. We are proud of his effort and attitude. Zanto was funky and we never quite knew what he would do. We are proud to have coached Zanto through these last few years."
Action begins in Rapid City on Thursday, Feb. 25