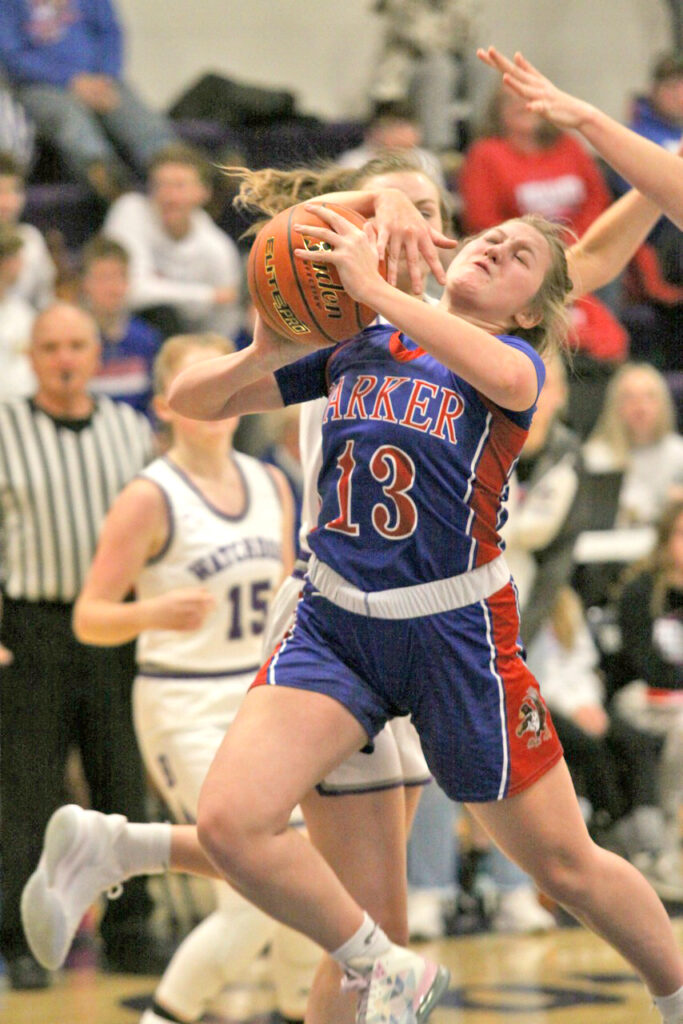 By Shane Merrill | Sports
Parker nearly pulled off an improbable comeback last Friday afternoon in Beresford as the Pheasants faced off against the Watchdogs in a Big East Conference matchup.
Both teams struggled offensively in the first quarter, but midway through the scoring started after Beresford rallied ahead 5-0, the Pheasants tied early as Janae Olson hit an inside shot and Ellie Travnicek hit a corner three, tying at five. Both teams matched points from there, tied 9-9 after one.
Beresford put together a big second quarter, scoring 16 points while Parker scored seven, leading 25-16 at the half.
The Watchdogs extended their lead to 12 points early in the third, but a big comeback late led by Travnicek and Janae Olson had Parker within six, 36-30 to start the final frame.
Travnicek and Lexi Even hit back to back shots to open the fourth, pulling back within two, but once again the pesky Watchdogs went ahead by six with three minutes to go. Travnicek then took over, scoring a free throw and knocking down a three point shot on the next possession pulling Parker within two. Travnicek then managed to steal the inbounds pass from the Watchdogs, laying a shot up and in for two, tying the game for the first time at 40 points with 1:20 to play, forcing a Watchdog timeout.
Beresford somehow found a way to close out the game, making their free throws and finishing the game on a 7-0 run to take the win, 47-40.
Leading Parker was Travnicek who posted a career high 16 points on 60 percent shooting. Lexi Even also had nine points and grabbed 14 rebounds while Olson had eight points and seven rebounds. Parker was sunk by missed free throws, going just 6 of 17 from the free throw line.
"We played really aggressive against Beresford. Alexis Even had 14 rebounds and did a great job of being smart with the basketball. She leads by example on our team and gave tons of effort," remarked coach Kennedy Wagner. "Beresford switched up their defense many different times on us during the game and Alexis did a good job of slowing the game down and speeding it up for us when it was necessary. Ellie Travnicek was a spark off the bench for us as well. Overall, I am proud of our teams efforts."
Up next Parker plays BonHomme.