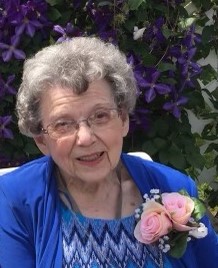 92
Monday, July 12
Hurley
Beverly (Breen) Freese was born on April 30, 1929, to Enoch and Amelia (Mansfield) Breen. Beverly's mother passed away from complications following the birth. Beverly was lovingly cared for by her father and maternal grandmother. She attended all 12 years of school at Hurley, graduating from Hurley High School in 1947. Beverly attended South Dakota State College in Brookings for two years and attended Peeds School of Floral Design in Kansas City. She spent time in Grand Rapids, Mich. and Newport Beach, Calif.
Beverly was united in marriage to Don Freese on Jan. 24, 1953, and they resided in Hurley. To this union, their daughter, Lynne, was born. Her husband Don passed away in 2020.
Beverly was very active in community affairs as she served on the zoning board, sexton for the Hurley Cemetery for 10 years. She was a past Matron of Order of Eastern Star, was also a member of the Garden Club, Hurley Historical Society Museum and was the first leader of the Girls Garden Club in South Dakota. She was a member of the United Methodist Church in Hurley, UMW, and served as the Sunday school treasurer.
Beverly worked several years in the Horticulture Building at the Turner County Fair. Over the years, she and Don entered many exhibits, winning many ribbons in floral arranging and oil painting, two of her favorite hobbies.
Grateful for sharing her life are her daughter Lynne, a granddaughter Ariel (Dobby) O'Donnell of San Diego, Calif.; a sister Holly Stotz of Centerville and a brother Robert (Janet) Breen of Huron.
A funeral service was held Sunday, July 18, at the United Methodist Church in Hurley.
Arrangements provided by Hofmeister-Jones Funeral Home.