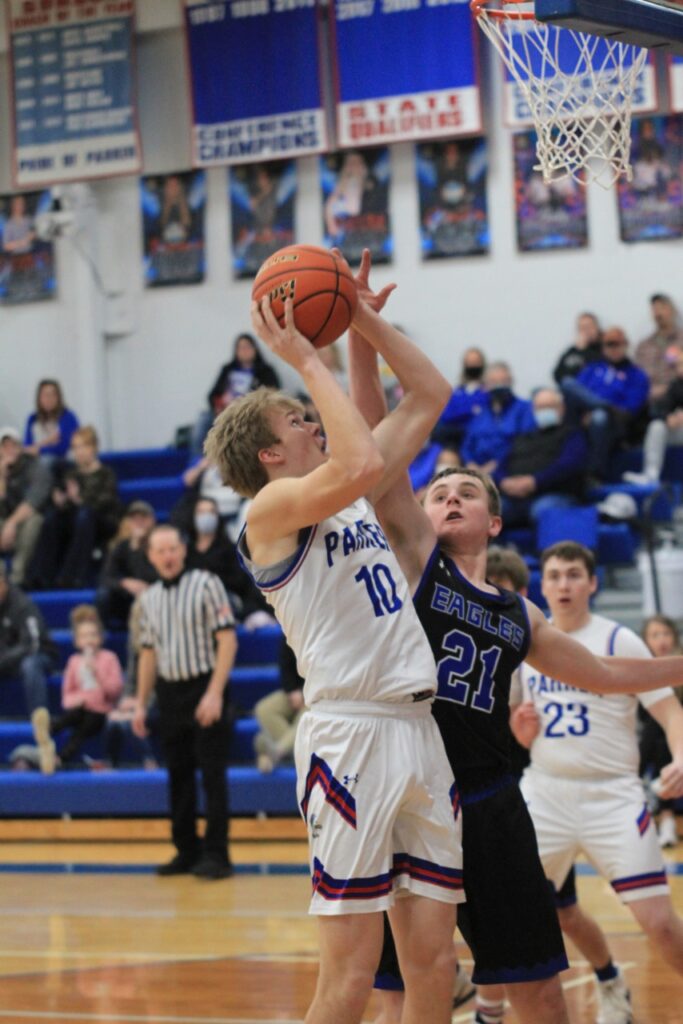 Shane Merrill | Writer
The Parker boys basketball squad was back in action after a long break last Tuesday, facing off against neighboring Irene-Wakonda. After a slow start, the Pheasants put together three solid quarters, good enough for a 63-39 victory.
Both teams battled in the first quarter, with the Eagles making a key run late in the frame to take a 16-13 lead after one.
The Pheasants responded in a big way, as Davin Fuller, Carter Robertson and Cole Jurgens went to work, showcasing their inside-outside offense against the stingy Eagle zone defense, and putting up 19 points while holding I-W to just nine. Robertson hit a long three at the half time buzzer, handing the Pheasants all the momentum as Parker raced ahead in each of the next two quarters, building a 10 and eventually 20 point lead, while holding I-W to just 14 points in the second half.
Leading Parker was Robertson with 21 while Fuller had 17 and Jurgens 13. Colby Olson also grabbed six rebounds and had eight assists. Parker shot an impressive 50 percent from the field and forced 20 turnovers.
"We played a really nice second half defensively. Offensively we had a balanced inside outside attack against their zone," remarked coach Lance Friesen.
Up next Parker, now 9-3, had another week long break before facing Chester and Canistota.