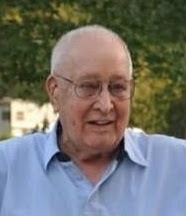 99
Sunday, Dec. 20
Port St Lucie., Fla.
He was born in Freeman on May 19, 1921. He was one of five children with his sister Hertha at 101 years of age, the last living family member. Erv moved to a farm north of Menno in his early years where he attended school. In those days farm children from Menno stayed in a dorm in town during the winter. Erv helped clean the dorm to pay for his room and board.
In 1941, Erv joined the Navy to serve his country in WW2. He was very proud of his service and was a recipient of The Honor Flight Program and was flown to Washington, DC in 2014 to be honored by his county.
When the war ended he moved to Milwaukee to work at the Nash Kevinator plant. It was in Milwaukee that he met his wife Phyllis while riding the Trolley from work. It was said that their chance meeting was planned as Erv made a point of being on the same trolley car as Phyllis.
In 1945 Erv and Phyllis were married. They moved to South Dakota in 1950 to farm and raise cattle.
After a few rough years of farming they moved to Parker in 1953 and purchased what was to become Erv's Bar. It was there that Erv introduced Chislic to Parker. Phyllis was employed by the Parker State Bank. The birth of their third child gave Erv the opportunity to try his hand at Obstetrics. He delivered Teri on HWY 16 enroute to the hospital in Sioux Falls as reported by KELO in 1956. Erv and Phyllis were active members of the First English Lutheran Church and developed many lasting friendships there. In 1965 Erv resumed his love of farming by purchasing a farm north of Parker and raising cattle.
In 1983 they retired to Phoenix to manage a storage unit and to be closer to their son, daughter and their families. They later returned to Wisconsin to live on Jordan Lake where Phyllis went for summer vacations as a child. In the winter they lived in Florida near their daughter Karen. In 2014 they moved to Florida permanently and lived at The Palms in Port St Lucie.
Erv and his wife Phyllis were wonderful, loving parents. Their dedication to each other and their partnership in raising the family provided blessings for their children and grandchildren. The extended family includes Greg (Elaine) Schimkat of Naperville Ill.; Karen (Max) Begeman of Palm City Fla.; Teri Towns of Buena Vista Colo.; Lori (Bob) Stanwood of St Joseph Mich.; nine grandchildren and many great-grandchildren. Their children received the support, strength and loving attitude to build families of their own.
Erv was a happy fun loving person who enjoyed the company of all people. His enthusiasm for life was everywhere and a smile always followed him. He will be greatly missed and will be waiting for us in heaven with a hug and a joke.
A Memorial Service will be held this Summer.