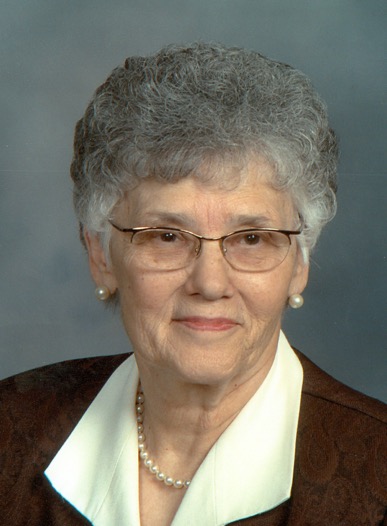 95
Saturday, August 14, 2021
Parker
Irene Genevieve Richardson was born on July 24, 1926, at Rock Valley, Iowa, to Henry and Martha (VerMulm) Harmelink. She grew up at Colton and graduated from Colton High School in 1944. While working at the Sioux Falls Airbase Airport, she met Ronald Richardson "under an airplane wing," as Ron would say. They were married on June 19, 1945, and made Parker their home.
Ron and Irene became strong Parker supporters. She was an active member of the United Methodist Church and was involved in many church activities. She also served on the Turner Village Board. The governor appointed Irene to the SD Advisory Board on Alcoholism. Irene was proud to be selected by Senator Daschle to represent South Dakota at the 1995 Senior Citizens Congressional Intern Week in Washington, DC. Ron fondly called her "The Chairman" since she seemed always to be the President or Chair of some organization or town project. She was a kind and considerate neighbor to all Parker folks who might need help.
Ron and Irene were blessed with five children. Irene always stressed the importance of education and was proud that all 10 of her grandchildren have college degrees.
Her hobbies included genealogy, various collections for her grandchildren, antiques and traveling. Some years ago, she was delighted to have the opportunity to visit Holland, the country of her heritage. Other favorite trips included New York City, Niagara Falls, California and a cruise on the Mexican Riviera. Her favorite pastime was playing dominos with her visiting sons and daughters, who often had difficulty winning in recent years.
Grateful for sharing her life are her children: Dr. Sandra (Michael) Rich, Hermosa Beach, Calif.; Penny Jans, Sarasota, Flo.; Jim (Linda) Richardson, Vermillion; and Randy (Marge) Richardson, McHenry, Ill.; a daughter-in-law, Jan Ruesink, Maple Grove, Minn.; 10 grandchildren: Timothy, Brian, Chanelle, Nicole, Bradley, Matthew, Jared, Clint, Michael and Matthew; 14 great-grandchildren; and a sister, Esther VanLiere, Dell Rapids.
She is preceded in death by her parents; husband, Ronald; son, Bob; sister, Cathryn; and a son-in-law, Ken Jans.
In lieu of flowers, memorials may be directed to the Parker Fire Department or Turner County Fair's Heritage Park.
Funeral services were held Saturday, Aug. 21, at Calvary Reformed Church in Monroe, with burial at Rosehill Cemetery, Parker.
Arrangements provided by Hofmeister Jones Funeral Home in Parker.