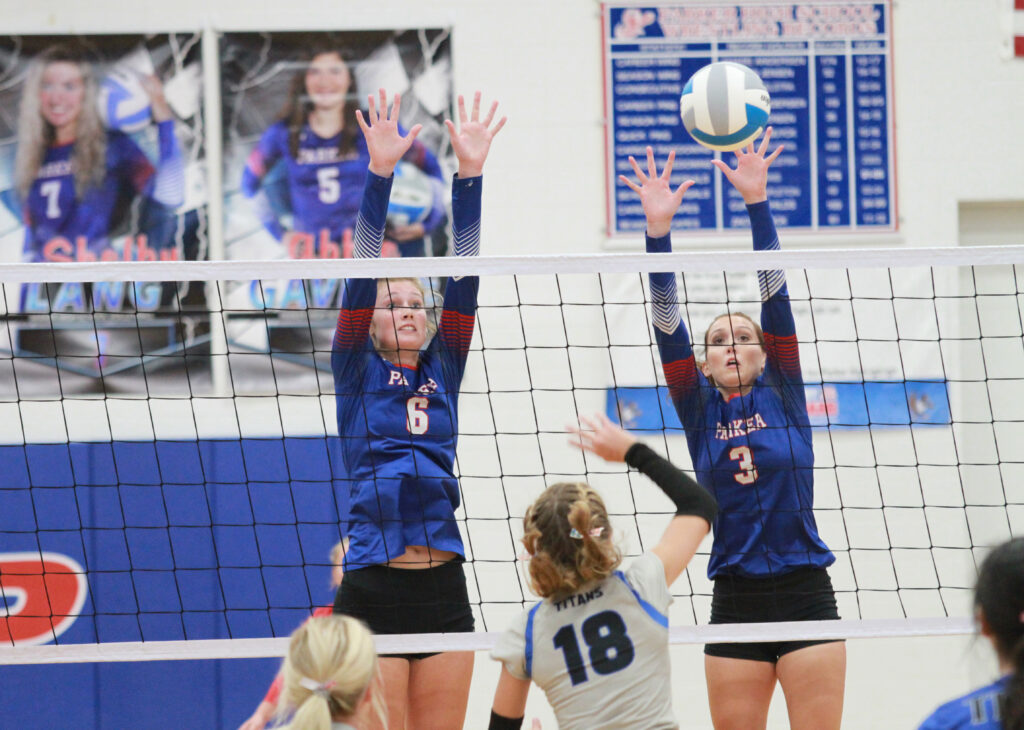 Shane Merrill | Sports Writer
The Parker volleyball squad opened their 2020-2021 campaign with a 3-0 victory, working the bugs out in the process but still taking the win.
Parker jumped ahead 3-0 in the first set, but stumbled from there, trading points with the Eagles up until the end. I-W actually led late in the contest, but a Parker timeout turned the tide, as the Pheasants went on to nab the victory 25-22.
The second set was all Parker, as the Eagles had no answer for the relentless Parker attack. Serving, hitting and receiving were all much crisper, with Brooke Berens and Shelby Lang pounding shot after shot at the defense, helping Parker to a 25-9 win.
I-W jumped ahead early in set three, but the Pheasants came back to life, scoring several unanswered points on their way to a 25-16 win and 3-0 sweep of the visitors.
Leading Parker was Berens with 12 kills while Lang had seven, Ryleigh Andersen five and Morgen Carlson five. Breana Jensen led the defense with 10 digs while Cierra Mohr had 28 set assists.
"Overall (I was) very pleased with our first game. I think a lot of the girls were very nervous and so was I," said coach Carly Rozell. "I know we got a full season last year, but with COVID it feels like it has been a very long time since we have played. I am glad we were able to dust off the cobwebs and play! With it being our first game, we definitely learned a lot from it on what we need to work. I am really excited for what is to come for these girls."
Parker next faced off against MVP.
Pheasants
take out MVP
The Parker volleyball team hosted Mount Vernon/Plankinton last week and after some early jitters came away with a convincing 3-0 victory.
Parker led through most of the first, but a late Titan rally pulled the visitors dangerously close. Solid net play from Brook Berens and Ryleigh Andersen helped push the Pheasants to victory 25-20.
The second set was all Parker as the hitters found their stride, with the Pheasants capping off an impressive set 25-9.
Parker also controlled the third set, taking a lead early and never looking back, getting the win 25-18 and the match 3-0.
Leading Parker was Berens with eight kills while Andersen had seven, Lang six and Sarah Herlyn four. Berens also led the defense at the net with five blocks, while Breana Jensen led the back row with 19 digs. Cierra Mohr also dished out 23 assists.
"I was proud of the girls last night. They played so much better than they did on Tuesday. We still had our moments, but we are still working on having less and less of those," commented coach Carly Rozell.
She continued, "We are struggling right now to be consistent with our serving, but I like how aggressive they are being at the service line. We have some tougher games next week and am excited to watch them step up to the challenge."
Parker next jumps right into conference play with traditional foes Sioux Valley and MCM on the docket.