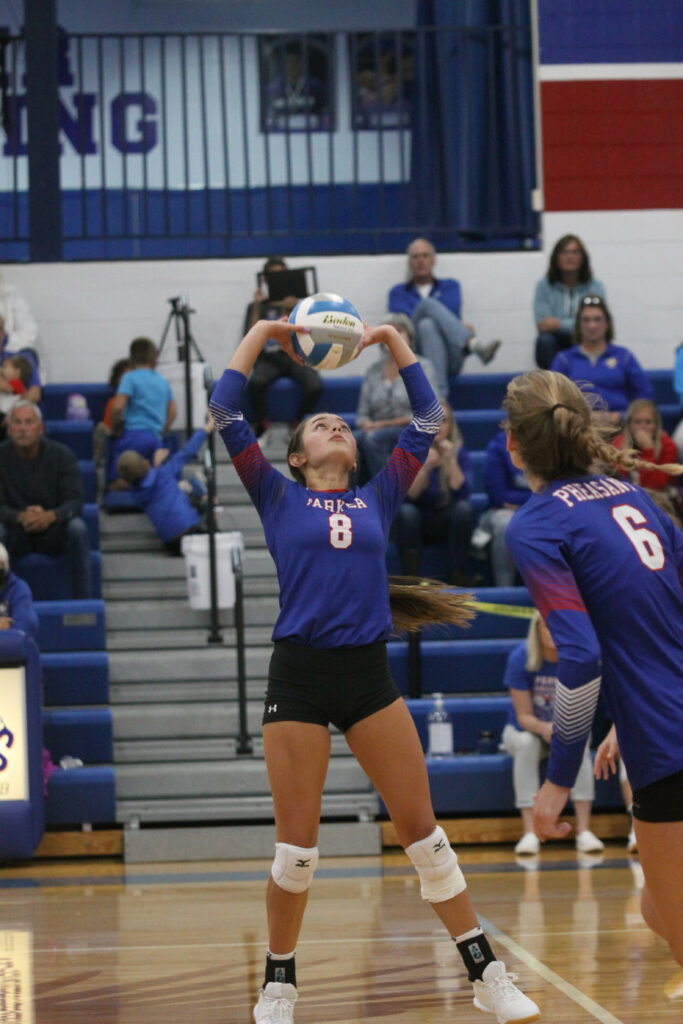 Shane Merrill | Sports Writer
In arguably their best match of the young season, the undefeated Parker Pheasants volleyball team clashed with the undefeated Garretson Blue Dragons last Saturday night in Parker, with the winner being crowned conference tournament champion. Parker, no stranger to the title match, hadn't won the crown since 2012, but took care of business on Saturday, blanking the undefeated Blue Dragons to the take the victory and improve to 7-0 on the season.
It was all Parker in the first set as shots from Shelby Lang and Ryleigh Andresen had the Blue Dragon defense scrambling. Parker used their spot serving to perfection, picking apart the visitors and cruising to a 25-16 set one victory.
Parker was able to keep momentum into the second set, once again rallying ahead early and cruising to another victory, this time with a set score of 25-17 and leading the match 2-0.
Things looked just as good in the third game, with the Pheasants once again rallying ahead early and holding on for a solid 25-19 win, putting an emphasis on the championship and igniting a spark in the early season.
Leading the Pheasants was Lang and Andersen with eight kills respectively. Morgen Carlson also chipped in with seven. Breana Jensen led the defensive effort with 15 digs while Cierra Mohr had 13 and Lang nine. Mohr also dished out 26 assists on the night while the team had six ace serves.
"We had a great team effort this weekend," remarked head coach Carly Rozell. "I am very proud of them."
Parker will continue their play this week, facing Tea on Tuesday, Alcester-Hudson on Thursday and Wagner on Saturday.