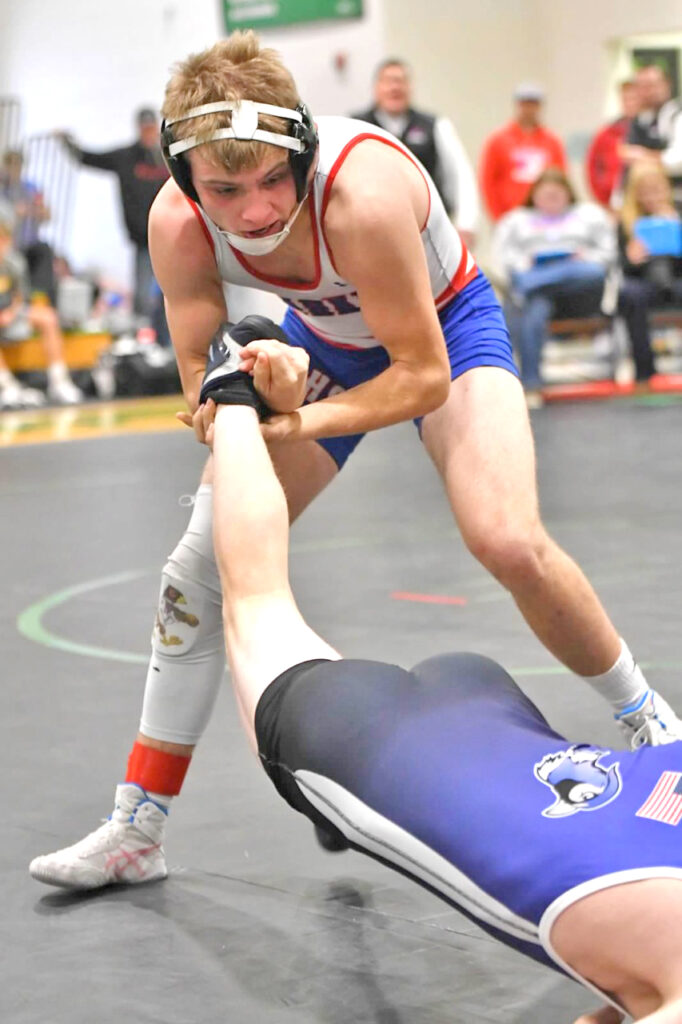 Shane Merrill | Sports
The Parker wrestling team found stiff competition last week as they traveled to Presho for a new add on to their schedule, the Mid Dakota Monster tournament. The Pheasants faced several competitors from both class 'A' and 'B' and managed to stay hot, as two wrestlers made the championship with four others placing the in event.
"Jack Even took home seventh place. Jack continues to get better every time he steps on the mat. We are excited to see how he will finish the season," remarked head coach John Silvernail." "Michael Even took home third place at 132 pounds. Michael is really getting after it this year. Levi Wieman and Charlie Patten both found a way to get in the finals on Saturday. Both wrestlers lost in the finals but will use the losses as valuable learning experiences. We were really impressed with how all the guys battled all weekend long. This team is going to surprise some people over the next few weeks and look to battle all the way to the State Tournament."
Parker is next at West Lyon Tuesday and Tri-Valley on Saturday.
106: Alek Kuchta (Parker) – 8th
Champ. Round 1 – Alek Kuchta (Parker) over Koby Bowden (Belle Fourche) (Fall 1:03)
Champ. Round 2 – Alek Kuchta (Parker) over Tate Surat (Kimball/White Lake/Platte-Geddes) (Fall 3:04)
Quarterfinals – Alex Oedekoven (Pierre T.F. Riggs) over Alek Kuchta (Parker) (Dec 8-2)
Cons. Round 4 – Alek Kuchta (Parker) over Reed Gray (Sisseton) (Dec 2-0)
Cons. Round 5 – Neil Hicks (Bennett County) over Alek Kuchta (Parker) (Fall 4:56)
7th Place Match – Jacob Mason (Pierre T.F. Riggs) over Alek Kuchta (Parker) (Dec 2-1)
113: Dylan Buseman (Parker) – 8th
Champ. Round 1 – Dylan Buseman (Parker) received a bye
Champ. Round 2 – Dylan Buseman (Parker) over Kian Rusch (Custer) (Fall 3:14)
Quarterfinals – John Alden (O`Neill) over Dylan Buseman (Parker) (Fall 5:26)
Cons. Round 4 – Dylan Buseman (Parker) over Lincoln Houska (Pierre T.F. Riggs) (Fall 3:21)
Cons. Round 5 – Nicholas Schlachter (Potter County) over Dylan Buseman (Parker) (SV-1 7-5)
7th Place Match – Johnny Lenz (Kimball/White Lake/Platte-Geddes) over Dylan Buseman (Parker) (Dec 9-8)
120: Wyatt Rand (Parker) – DNP
Champ. Round 1 – Myka Fitzgerals (Lead-Deadwood) over Wyatt Rand (Parker) (Fall 0:28)
Cons. Round 1 – Wyatt Rand (Parker) received a bye
Cons. Round 2 – Kahne Hansen (Kingsbury County) over Wyatt Rand (Parker) (Fall 3:51)
126: Riley Pankratz (Parker) – DNP
Champ. Round 1 – Riley Pankratz (Parker) received a bye
Champ. Round 2 – Spencer Sargent (Sunshine Bible Academy) over Riley Pankratz (Parker) (Fall 2:38)
Cons. Round 2 – Riley Pankratz (Parker) over Tanner Vander Vorst (Potter County) (Fall 1:41)
Cons. Round 3 – Riley Pankratz (Parker) over Blake Jennings (Kingsbury County) (Dec 7-0)
Cons. Round 4 – Wyatt Wientjes (Mobridge-Pollock) over Riley Pankratz (Parker) (Fall 4:21)
132: Michael Even (Parker) – 3rd
Champ. Round 1 – Michael Even (Parker) received a bye
Champ. Round 2 – Michael Even (Parker) over Mekhi Hayes (Lead-Deadwood) (Fall 1:16)
Quarterfinals – Michael Even (Parker) over Konner Osborn (Winner) (Fall 5:30)
Semifinals – Dylan McGregor (McCook Central/Montrose) over Michael Even (Parker) (MD 13-2)
Cons. Semis – Michael Even (Parker) over Pryor Mathews (O`Neill) (Fall 0:56)
3rd Place Match – Michael Even (Parker) over Boe Iverson (Sisseton) (MD 15-7)
138: Quinlan Olesen (Parker) – DNP
Champ. Round 1 – Clayton Dulany (Warner/Northwestern) over Quinlan Olesen (Parker) (Fall 1:44)
Cons. Round 1 – Kayden Fryer (Winner) over Quinlan Olesen (Parker) (Fall 3:53)
145: Jack Even (Parker) – 7th
Champ. Round 1 – Jack Even (Parker) over Chays Mansfield (Warner/Northwestern) (Fall 0:35)
Champ. Round 2 – Jack Even (Parker) over Kellen Cihak-Brozik (Winner) (Fall 1:15)
Quarterfinals – Jackson Remmers (McCook Central/Montrose) over Jack Even (Parker) (TF 17-2 5:09)
Cons. Round 4 – Jack Even (Parker) over Lucas Arcoren (Sully Buttes) (Fall 1:52)
Cons. Round 5 – Chase VanDerBoom (Newell) over Jack Even (Parker) (Dec 11-6)
7th Place Match – Jack Even (Parker) over Jaxon Ducheneaux (Pierre T.F. Riggs) (Dec 7-3)
152: Jerimiah Friman (Parker) – DNP
Champ. Round 1 – Carter Luikens (Potter County) over Jerimiah Friman (Parker) (Fall 0:25)
Cons. Round 1 – Jerimiah Friman (Parker) received a bye
Cons. Round 2 – Tyler Frick (Canton) over Jerimiah Friman (Parker) (MD 10-0)
160: Logan Bridges (Parker) – DNP
Champ. Round 1 – Logan Bridges (Parker) received a bye
Champ. Round 2 – Levi Drueke (O`Neill) over Logan Bridges (Parker) (Fall 1:52)
Cons. Round 2 – Logan Bridges (Parker) received a bye
Cons. Round 3 – Andy Tonsager (Belle Fourche) over Logan Bridges (Parker) (Dec 12-6)
182: Charlie Patten (Parker) – 2nd
Champ. Round 1 – Charlie Patten (Parker) received a bye
Champ. Round 2 – Charlie Patten (Parker) over Logan Raap (McCook Central/Montrose) (Fall 4:38)
Quarterfinals – Charlie Patten (Parker) over Jesse Bears Heart (Mobridge-Pollock) (Fall 0:43)
Semifinals – Charlie Patten (Parker) over Gunner Johnson (Lyman) (SV-1 3-1)
1st Place Match – Jack Kruger (Winner) over Charlie Patten (Parker) (Dec 3-2)
195: Zaul Centeno (Parker) – DNP
Champ. Round 1 – Zaul Centeno (Parker) received a bye
Champ. Round 2 – Caleb Rickenbach (Hot Springs) over Zaul Centeno (Parker) (Fall 0:55)
Cons. Round 2 – Zaul Centeno (Parker) received a bye
Cons. Round 3 – Cade Bickerdyke (Belle Fourche) over Zaul Centeno (Parker) (Fall 1:53)
220: Levi Wieman (Parker) – 2nd
Champ. Round 1 – Levi Wieman (Parker) received a bye
Champ. Round 2 – Levi Wieman (Parker) over Nate Middletent (Lower Brule) (Fall 0:18)
Quarterfinals – Levi Wieman (Parker) over Rocky Wiedman (Todd County) (Fall 2:26)
Semifinals – Levi Wieman (Parker) over Aiden Schoenhard (Mobridge-Pollock) (Dec 11-7)
1st Place Match – Marshall Baldwin (Canton) over Levi Wieman (Parker) (Dec 5-2)
285: Jason Ebeling (Parker) – DNP
Champ. Round 1 – Jason Ebeling (Parker) received a bye
Champ. Round 2 – Jason Ebeling (Parker) received a bye
Quarterfinals – Kameron Styles (Kimball/White Lake/Platte-Geddes) over Jason Ebeling (Parker) (Fall 0:26)
Cons. Round 4 – Owen Kerkvleit (Kingsbury County) over Jason Ebeling (Parker) (Fall 2:15)