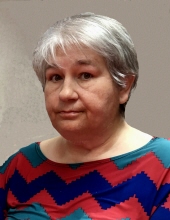 Susan Saylor
59
Saturday, May 4
Wakonda, formerly of Aberdeen
Susan Kay Saylor was born on June 18, 1959 in Webster to Lorane and Florence (Kaiser) Harms. She was baptized and confirmed at St. Anthony's Catholic Church in Bristol. She grew up in the Butler area. She attended and graduated from Bristol High School in 1977.
After graduating, she married Brent Saylor. To this union two sons were born, David and Scott. The family made their home in Webster until 1983 when they relocated to Aberdeen. The couple divorced and Susan and the boys moved back to Webster. Throughout the years, Susan worked at Dakotah and Bethesda home until ill health forced her into an early retirement.
She cherished spending time with her two sons, David and Scott and loved attending their events. She also enjoyed spending time outside, playing bingo and cards, watching old movies and reading.
She will be forever loved and greatly missed by her two sons; David Saylor and Scott Saylor both of Sioux Falls, four brothers; William of Bristol, Michael of Bristol, Paul (Karla) of Parker, Jeffrey of Aberdeen, three sisters; Judith (Ellsworth) Anderson of Kimball, Minn., Patricia (Adolf) Walz of Aberdeen, Mary Keats of Belle Fourche, 12 nieces and nephews, two aunts, Lois Stern of Bristol, Catherine (Herbert) Dohman of Sioux Falls, and one uncle, Donald (Roseanne) Harms of Redfield.
She was preceded in death by her parents, sister-in-law Brenda Harms, brother-in-law Richard Keats and niece Candace Anderson.
Funeral Services were held Wednesday May 8, at Fiksdal Funeral Service in Webster with burial in the Bristol Cemetery.
Arrangements were provided by Fiksdal Funeral Service of Webster.